Latest topics
»
Impromptu Games
by
MRM
Yesterday at 4:20 pm
»
1914 WW1 Kriegsspiel
by
Master of Europe
Thu Mar 22, 2018 11:27 am
»
Free ACW maps
by
Martin
Tue Mar 20, 2018 5:14 pm
»
Creating OOB mod procedure?
by
Grog
Mon Mar 19, 2018 5:04 pm
»
Leaders and cavalry go underground?
by
billy28804
Mon Mar 19, 2018 4:07 am
»
Sunday 22 April 2018 Kriegsspiel
by
Martin
Sun Mar 11, 2018 4:07 pm
»
KS Napoleon Mod Player's Manual
by
zu Pferd
Sat Mar 10, 2018 2:21 am
»
✯ TWC - PBEM Strategy Wargaming Club ✯
by
Lancier
Fri Mar 09, 2018 10:05 am
»
Ferraris maps of Belgium
by
Tim Carne
Tue Feb 27, 2018 1:24 am
»
Game Crashes when troops ordered into column
by
Uncle Billy
Mon Feb 26, 2018 3:11 pm
»
WW2 player travelling back in time
by
Josey Wales
Sun Feb 25, 2018 7:12 pm
»
Set Up for SOWWL NAPOLEON GAMES For Kriegspiel style
by
Mark87
Sat Feb 17, 2018 6:22 pm
Statistics
We have
1011
registered users
The newest registered user is
Nigel_B
Our users have posted a total of
24511
messages in
1958
subjects
Page 3 of 3 •

1, 2, 3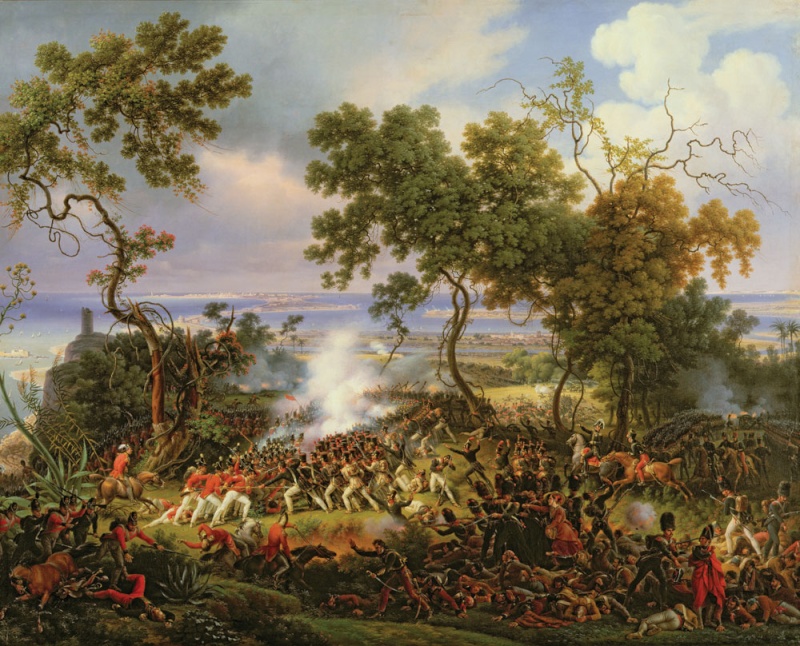 When, given a choice, contemporary commanders chose to fight within the woods. Often they aligned themselves at the edge of a woodland in order to shoot out into an adjoining field.  The cover of woods and copses was a crucial element of military tactics. Troops or artillery could be concealed in the fringes of these areas, or large-scale troop movement could be carried out behind wooded areas, offering protection from enemy fire and leaving the enemy oblivious to unit placement. During the nineteenth century, on the verge of the transformation to modernised conflict, woodlands were used to great effect, notably at the Battle of Waterloo during the Napoleonic wars in 1815, and later at the Battle of Gettysburg,
ON WATERLOO
Napoleon Bonaparte in Mémoires pour servir à l'histoire de France en 1815, avec le plan de la bataille de Mont-Saint-Jean repeatedly criticised the Duke of Wellington's choice of battle field because of the forest to his rear.
On page 124, Bonaparte wrote, "He had in his rear the denies of the forest of Soignes, so that, if beaten, retreat was impossible", and on page 158 — "The enemy must have seen with affright how many difficulties the field of battle he had chosen was about to throw in the way of his retreat", and again on page 207 — "The position of Mont-Saint-Jean was ill-chosen. The first requisite of a field of battle, is, to have no defiles in its rear. The injudicious choice of his field of battle, rendered all retreat impossible."
"Forest of Soignes" Waterloo blunder
also see
The twelve great battles of England
However, Napoleon's view was contradicted by Jomini, who pointed out that Wellington had good roads behind his centre and each wing which would have made a retreat through the forest safer than across an open field: Napoleon's cavalry would have been hampered by the forest in their attempts to turn any retreat into a rout. Some have argued that there was no bottom to the forest and it would not have hampered an extraction given Wellington's superlative expertise in handling an army disengaging from the enemy,while others have suggested that Wellington if pressed intended to retreat eastwards towards Blücher's Prussian army so the interior of the wood was of little military significance.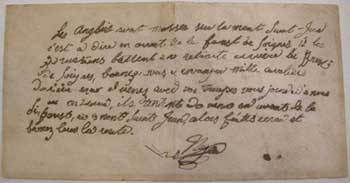 "The English are amassed on Mont-Saint Jean, that is in front of the forest of Soignes. If the Prussians retreat behind the forest of Soignes you must send a thousand cavalry behind them, and come with your troops to join us. If one finds they intend to come in front of the forest at Mont Saint-Jean, then make a screen and bar the route. Ney. "
This dispatch from Ney to Général Lobau, commander of the French VI corps, was written on the morning of the day the battle on 18 June and outlines an alternative strategy based on the movements of the Prussian army under Marshal Blücher whom Napoleon had forced to retreat north-east toward Wavre, following the battle at Ligny, 15 km NE. of Charleroi on the 16th. That same day Wellington had engaged the French under Ney, at Quatre Bras, 13 km south of Waterloo. He was now obliged to fall back in fighting retreat to the valley south of Waterloo and his defensive position on the escarpment to await the arrival of Blücher's Prussians, the impending news of which he received at 2 am on the 18th. The battle lines were now drawn on opposite sides of the shallow valley.
Had Wellington been defeated and Blücher been unable to bring his army to join that of Wellington's, this dispatch could have become critical as it outlines the next step.  Again forests and woodland were not off limits to troop movements and tactics.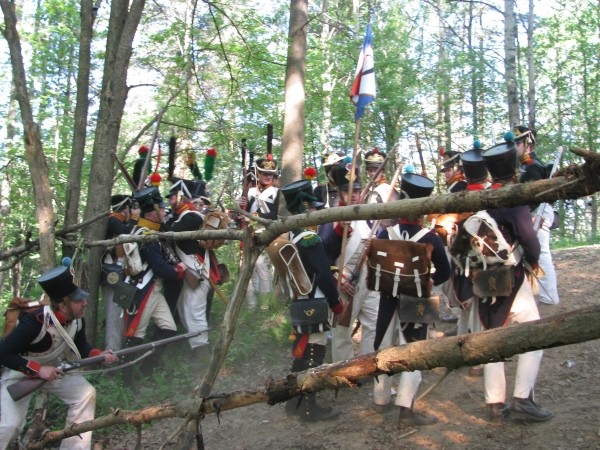 However Prussian Light Infantry in the Jena Campaign are criticised and the French Grande Armee praised by Friedrich August von der Marwitz 'The effect of the old Prussian fire has been completely lost, and we sacrifice an enormous number of men in villages and
woodland
where the French often lure us since they are much more proficient than we are, because any Frenchman knows better how to ensure his personal advantage than the German. '
PS
Other Napoleonic examples of forest fighting
http://www.wargamer.com/article/3287/miniature-wargaming-battle-of-berezina
http://en.wikipedia.org/wiki/Battle_of_Hanau
Just look at that deployment in the forest.

Calpurnius




Posts

: 48


Join date

: 2013-04-08


Age

: 39


Location

: Bakersfield, Caifornia



Interesting post Brett. I think it supports my case nicely.

However I'm talking about the Spanish army here, as distinct from other armies in Europe. I did say this in the discussion in the Allied forum. I would think very hard before saying with a blanket-certainty that British, Prussian, Russian and Austrian infantry could not enter woodland. However the account above does make it distinct that the French infantry in 1806 was at an advantage in woodland fighting over the Prussian infantry - again I raised this exact point before when talking about the Prussian 1806 army's doctrine. Like the Spanish, it was a Frederican (linear, non-corps organised) army. The account quoted definitely makes the case that the Prussian infantry
could not
operate in woods with the same ease as the French in that battle.
All the discussion on Waterloo above seems to make the point that forests
were
significant obstacles to armies except via roads cleared through them. We know that in the few wooded areas at Waterloo where infantry fought (the wood south of Hougoumont and the wooded areas around Frischermont and Pappelotte) that skirmishers were employed in these areas. When the Prussians approached on the rising ground above Plancenoit they sent their fusilier battalions through the woods. These were skirmish-capable battalions.
At Bossu at Quatre-Bras, line battalions worked in open order and after hours of fighting and gained and lost fortunes the troops of both sides had broken down into unco-ordinated masses. Remember too that these were among the best infantry in Europe - French veterans and Dutch previously in French service, plus towards the later half of the action the British guards were deployed in there. All of these fellows are a far cry from the average Spanish infantryman of 1808 and even
they
lost cohesion after a prolonged fight in a forest.
The Hanau map is really interesting. You referred to the French positions inside the woods but I'd draw your attention to the Austrian and Bavarian positions
outside
the woods! Look how they deploy in the open all along the woods edge and on their right appear to have thrown up earthworks and cleared and laid an abbatis. I've already said I'm fine with French infantry in woods; we played Aranjuez in that format.
The marked positions of the French cavalry and artillery on their right are interesting though. Both cavalry columns appear to be astride tracks through the forest and you can tell by the absolutely perfect alignment of the unit symbols that these do not represent the actual positions of the troops, but more likely the area in which they operated or marched. I'd need to read an account of Hanau (I read it years ago in Chandler but have forgotten the details) but I interpret that map as showing two cavalry columns moving through the wood via two trails.
The artillery position is strange. It appears to have its left on a road and its right across a stream. Obviously one doesn't deploy cannons across streams and its field of fire there would most likely be very severely limited. I'm very dubious about the accuracy of that marked position!
No; right now I think keeping formed Spanish infantry and all artillery and cavalry out of the largest areas of woodland is the correct approach. Some players are not happy with the restriction on Spanish cavalry brigade command so I'll willingly respect the preference of the majority if more people would chip in with their opinions.

_________________
The other Martin - Charles Reille, le dernier Maréchal de France.

"Any hussar who has not got himself killed by the age of 30 is a jackass." - Antoine Charles Louis Lasalle, commander of Napoleon's light cavalry, killed in battle at Wagram 6 July 1809, aged 34.

"I had forgotten there was an objective." - Generallieutenant Mikhail Borozdin I

Mr. Digby




Posts

: 4933


Join date

: 2012-02-14


Age

: 58


Location

: UK Midlands



"When, given a choice, contemporary commanders chose to fight within the woods. Often they aligned themselves at the edge of a woodland in order to shoot out into an adjoining field.  The cover of woods and copses was a crucial element of military tactics. Troops or artillery could be concealed in the fringes of these areas, or large-scale troop movement could be carried out behind wooded areas, offering protection from enemy fire and leaving the enemy oblivious to unit placement"
Interesting point here, Brett.
Here's an example of how General Belvedere used this defensive tactic at the Battle of Burgos O De Gamonal 10th November 1808:
" />
"[Belevedere] deployed his nine battalions in a line along the front edge of a substantial wood....the other two battalions were in the rear with the 2nd Hussars.." The Peninsular War Atlas-Nick Lipscomb
Perhaps we should consider this practice in the game?
Also, this map of the Spanish deployment at Bailen (1808) suggests that their right wing might have been at least partially in a wood but difficult conclude this from the map.
Interestingly, note the Spanish skirmishers in the wood, encountered there by French heavy cav " [which] cut their way deep into the strong skirmish lines provided by the 3rd Guardias Walonas and the 1st Suizo, neither being able to form square to meet the threat"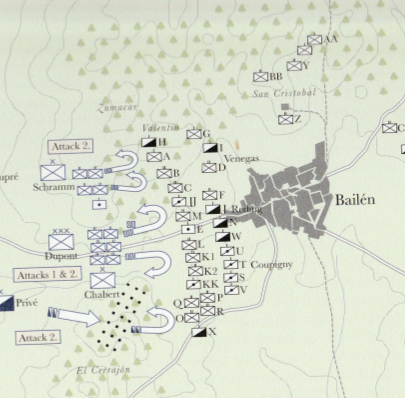 " />
Mike

Grog




Posts

: 572


Join date

: 2012-08-31


Age

: 48


Location

: Nottingham, England



Since I am Belvedere I request a special use of woods pass. LOL interesting and educational reading about the WOODS!!
Page 3 of 3 •

1, 2, 3

---
Permissions in this forum:
You
cannot
reply to topics in this forum