Statistics
We have
981
registered users
The newest registered user is
jajg1950
Our users have posted a total of
23971
messages in
1917
subjects
To highlight games you were recently in or other tactical and gameplay points the KS mod is strong on.
(I am amazed we don't have such a thread already).
To kick us off two pics from "Mad Morsey's Borodino" in which somebody who shall remain nameless was wiped out on the Russian right while I, on the left, had time to order my men to down tools and eat their packed lunches in between throwing back weak and disjointed French assaults up "Hamburger Hillovitch".
The mothers of Poland weep while their sons lay scattered like fallen petals in a foreign land...

_________________
The other Martin - Charles Reille, le dernier Maréchal de France.

"Any hussar who has not got himself killed by the age of 30 is a jackass." - Antoine Charles Louis Lasalle, commander of Napoleon's light cavalry, killed in battle at Wagram 6 July 1809, aged 34.

"I had forgotten there was an objective." - Generallieutenant Mikhail Borozdin I

Mr. Digby




Posts

: 4858


Join date

: 2012-02-14


Age

: 58


Location

: UK Midlands



We did have one of these threads awhile ago.  I'll add a few.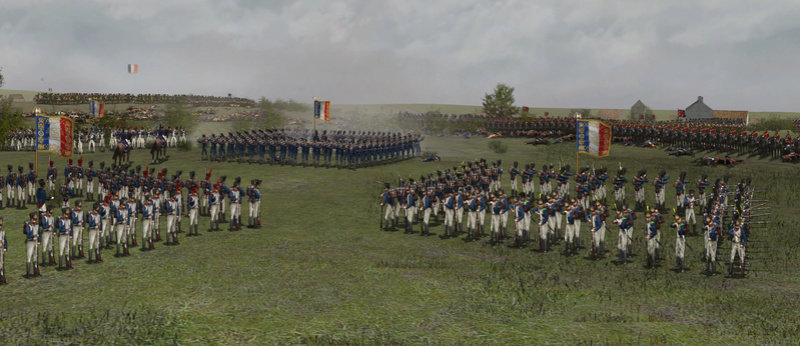 It's hard to be French.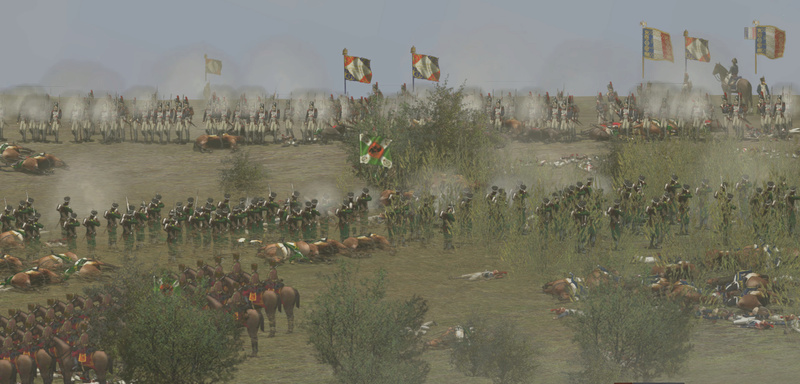 Not what you want to see coming over the hill.

Winter wonderland.

_________________
I can make this march and I will make Georgia howl.

Uncle Billy




Posts

: 2843


Join date

: 2012-02-27


Location

: western Colorado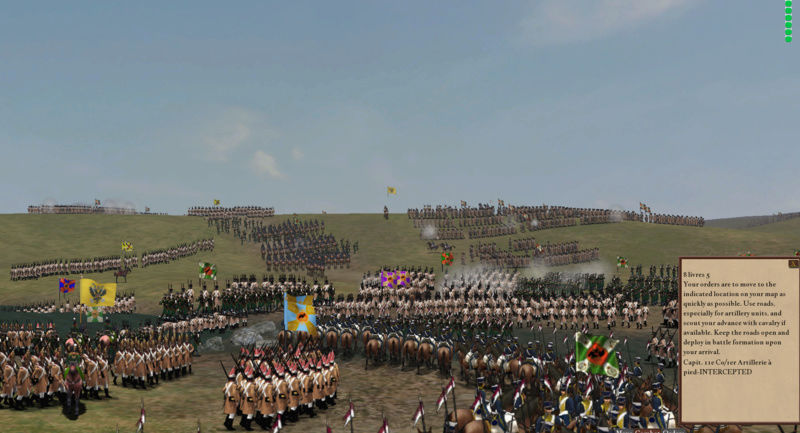 After 2 hours of fighting more French.  How many did we face Martin?
They had 4 infantry divisions and a cavalry division:

I Corps: Maréchal d'Empire Jean Bernadotte (36739 Inf. 2911 Cav. 79 Guns)

2e Division: Général de div. Honoré Gazan (9347 Inf. 16 Guns)
1er Brigade: Général de brigade François-Amable Ruffin (2104 Inf. 4 battalions Avg. Exp. 7.0)
Brigade Brouard: Général de brig. Baron Etienne Brouard (4114 Inf. 6 battalions Avg. Exp. 5.6)
Brigade Lapisse: Général de brigade Pierre Lapisse (3129 Inf. 4 battalions Avg. Exp. 6.5)
2e Co/3e Artillerie à cheval: Capit. 2e Co/3e batterie à cheval (4 Guns Avg. Exp. 5.0)
1er Co/6e Artillerie à cheval: Capit. 1er Co/6e Artillerie à cheval (6 Guns Avg. Exp. 5.0)
9e Co/1er Artillerie à pied: Capit. 9e Co/1er Artillerie à pied (6 Guns Avg. Exp. 4.0)

1er Division: Général de division Pierre Dupont (9354 Inf. 19 Guns)
Brigade Lochet: Général de brig. Pierre-Charles Lochet (2889 Inf. 5 battalions Avg. Exp. 5.5)
Brigade Campana: Général de brig. François Campana (3435 Inf. 6 battalions Avg. Exp. 5.4)
Brigade Levasseur: Général de brigade Victor Levasseur (3030 Inf. 4 battalions Avg. Exp. 5.0)
2e Néerlandais artillerie à cheval: Capit. 2e Néerlandais artillerie à cheval (8 Guns Avg. Exp. 4.0)
1er Co/6e Garde Artillerie à cheval: Capit. 1er Co/6e Garde Artillerie à cheval (8 Guns Avg. Exp. 6.0)
3e Co/2e/sec 1 Artillerie à cheval: Capit.3e Co/2e/sec 1 Artillerie à cheval (3 Guns Avg. Exp. 6.0)

3e Division: Général de div. Louis Friant (9535 Inf. 13 Guns)
Brigade Lefranc: Général de brigade Jacques Lefranc (2737 Inf. 6 battalions Avg. Exp. 6.4)
Brigade Gauthier: Général de brigade Jean Gauthier (2559 Inf. 5 battalions Avg. Exp. 6.5)
Brigade Labassée: General de Brigade Mathieu Labassée (4239 Inf. 5 battalions Avg. Exp. 5.3)
6e Co/1er Artillerie à pied: Capit. 6e Co/1er Artillerie à pied (4 Guns Avg. Exp. 6.0)
12e Co/1er Artillerie à pied: Capit. 12e Co/1er Artillerie à pied (6 Guns Avg. Exp. 4.1)
4e Co/6e/sec 2 Artillerie à cheval: Capit.4e Co/6e/sec 2 Artillerie à cheval (3 Guns Avg. Exp. 5.0)

4e Division: Général de division Charles Louis Grandjean (8503 Inf. 19 Guns)
Brigade Gency: Général de brigade Claude Gency (4779 Inf. 6 battalions Avg. Exp. 5.0)
Brigade Vare: Général de brigade Louis Vare (3724 Inf. 5 battalions Avg. Exp. 5.5)
2e Co/1er Garde Artillerie à pied: Capit. 2e Co/1er Artillerie à pied (8 Guns Avg. Exp. 7.0)
11e Co/1er Artillerie à pied: Capit. 11e Co/1er Artillerie à pied (6 Guns Avg. Exp. 5.3)
3e Co/6e Artillerie à cheval: Capit. 3e Co/6e Artillerie à cheval (5 Guns Avg. Exp. 5.5)

3e Dragon Cavalerie Division: Général de Division Marc Antoine de Beaumont (2911 Cav. 12 Guns)
Dragon Brigade Milet: Général de brigade Jacques Milet (855 Cav. 2 regiments Avg.Exp. 6.1)
21e régiment de chasseurs: Général de brigade Debelle ADC (1056 Cav. 2 regiments Avg.Exp. 5.0)
Brigade Saint-Germain: Général de brigade Antoine-Louis de Saint-Germain (1000 Cav. 2 regiments Avg.Exp. 6.0)
4e Co/5e Artillerie à cheval: Capit. 4e Co/5e Artillerie à cheval (6 Guns Avg. Exp. 5.0)
2e Co/6e Artillerie à cheval: Capit. 2e Co/6e Artillerie à cheval (6 Guns Avg. Exp. 5.0)

No guards for a change!

Their cavalry was a brigade each of cuirassiers, dragoons and chasseurs. These delayed us a great deal on our left and probably allowed the AI to retain the objective until the end but were wasted in terms of tactical value in combat. The AI could have done that with its infantry division that was there. In both my test games, the cavalry went to the river and helped defend the ford, which was brutal. I think we got lucky yesterday.

Replays:

https://www.dropbox.com/s/sg495ur0ruzctxy/Feldberg.rar?dl=0

_________________
The other Martin - Charles Reille, le dernier Maréchal de France.

"Any hussar who has not got himself killed by the age of 30 is a jackass." - Antoine Charles Louis Lasalle, commander of Napoleon's light cavalry, killed in battle at Wagram 6 July 1809, aged 34.

"I had forgotten there was an objective." - Generallieutenant Mikhail Borozdin I

Mr. Digby




Posts

: 4858


Join date

: 2012-02-14


Age

: 58


Location

: UK Midlands



Carnage at the ford:
Skirmishing towards the river about 20 mins earlier:

_________________
The other Martin - Charles Reille, le dernier Maréchal de France.

"Any hussar who has not got himself killed by the age of 30 is a jackass." - Antoine Charles Louis Lasalle, commander of Napoleon's light cavalry, killed in battle at Wagram 6 July 1809, aged 34.

"I had forgotten there was an objective." - Generallieutenant Mikhail Borozdin I

Mr. Digby




Posts

: 4858


Join date

: 2012-02-14


Age

: 58


Location

: UK Midlands




Similar topics
---
Permissions in this forum:
You
cannot
reply to topics in this forum