Latest topics
»
Impromptu Games
by
MRM
Fri Jun 23, 2017 2:53 pm
»
SoW DLC Maps
by
Mr. Digby
Fri Jun 23, 2017 11:51 am
»
WW2 PBEM Kriegsspiel
by
Mr. Digby
Sun Jun 18, 2017 12:38 pm
»
2017 k/spiel game schedule
by
Martin
Fri Jun 16, 2017 12:38 pm
»
New Gettysburg Map - Shiloh
by
Uncle Billy
Fri Jun 16, 2017 1:22 am
»
Infantry Wheeling
by
Uncle Billy
Thu Jun 15, 2017 8:38 pm
»
Unit Stats
by
Uncle Billy
Tue Jun 13, 2017 10:14 pm
»
Waterloo issues. Does anyone else experience these?
by
Martin
Tue Jun 13, 2017 1:27 pm
»
Another mini-campaign idea
by
Mr. Digby
Fri Jun 09, 2017 6:21 pm
»
KS Napoleon Mod II 1.24 & KS Supplemental Maps 1.16
by
Uncle Billy
Thu Jun 08, 2017 2:33 pm
»
Set Up for SOWWL NAPOLEON GAMES For Kriegspiel style
by
Mr. Digby
Wed Jun 07, 2017 6:49 pm
»
Kriegsspiel revised rules 1828
by
PeterPerla
Sat Jun 03, 2017 8:39 pm
Statistics
We have
937
registered users
The newest registered user is
Merican
Our users have posted a total of
23385
messages in
1883
subjects
This is a screenshot of the Scenario Design Module for General Staff. Two armies that were created in the Army Design Module are combined with a map created in the (duh) Map Design Module.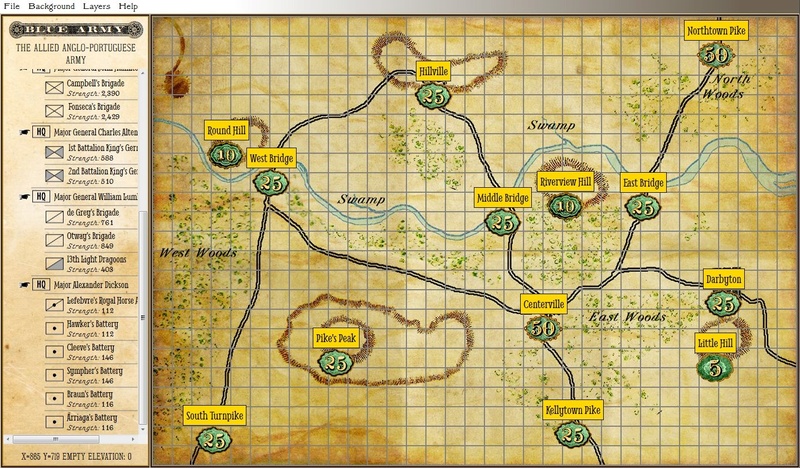 Link to General Staff: General Staff
---
Permissions in this forum:
You
cannot
reply to topics in this forum