Statistics
We have
251
registered users
The newest registered user is
voltigeur
Our users have posted a total of
10111
messages in
1140
subjects
Page 4 of 4 •

1, 2, 3, 4
Thanks Stefan for this excellent description of the ups and downs of last night's scenario with its raids and battles. I enjoyed it enormously & am very glad to now be able to see some things I didn't see at the time*. Thanks to Martin SC, Niall and John and to our gallant enemies - Martin J, Kevin, Justin & Steve.

I imagine controlling the wagons was very challenging. I hadn't thought through what to do with them once captured. Perhaps I should have had a plan in place for that and maybe a command detailed to guard them. Having said that, we were not really set up to defend wagons - as Martin said last night, we would probably have had to make do with burning the wagons and denying them to the enemy. Perhaps that could be a tweak for future re-runs? Not the burning - that just has to go on the wish list, but maybe Rebs could choose either to try and keep and defend wagons or, for less 'points', destroy them. They could announce the burning via the on-screen message, with the proviso that they couldn't do it just as the wagon is about to be captured. Tricky to umpire, I know ...

Could your trilogy be run as a campaign, Stefan, with troop losses carried over? That would (yet another) level of excellence.

*NSD wish list - the ability to record a battle fought with HITS and then go back and watch it from the Goodyear blimp!!!

Regards,

Jeff

Blaugrana




Posts

: 293


Join date

: 2012-01-21


Location

: London



Last night was very exciting and quite unusual for an SoW game. Rather than hunt the enemy for ages and then fight them when we found them, this time it was quite straightforward to find them but then we didn't want to fight them!
As Slemons, my brigade was operating on the west side of Myersville and up towards Bank and apart from seeing Hebert and Jenks staring each other down on the hills north of Myersville for about 20 minutes I saw no sign of any enemy wagons. Genl Armstrong then rode over and we conferred and he suggested I stop looking towards the north around Bank where I had been but scout to the far south west which I did to finally find Col. Fuller's column of two infantry regiments and some (three? four?) supply wagons. My own cavalry however were about fifteen minutes beghind me delayed by those cussed locals and their bad directions; the local road network was atrocious with many dead ends and some downright lies for local farmers about where they led!
Eventually I was able to bring one regimnent up to charge an enemy infantry regiment but they were atop a ridge and got off some good volleys as my boys charged. We hit them and routed them but this action tired out the horses and that regiment from then on wasn't much use. The ever present Genl Hebert then showed up to attack the enemy column's front from the east and their second regiment formed line to face his troopers only to present its flank to my second regiment which came over the same ridge and thundered into its left flank and rear, crumpling it and routing it for the los of only 16 men.
Unfortunately Fullers wagons must have been drawn by Spanish stallions as they shot off at extremely high speed and my boys were unable to cath them though I think Genl Armstrong captured them with one of Col Falkner's regiments under his command.
My command, now somewhat tired moved onto the steep hills to the NE of Myersville and got some rest with a couple of captured wagons in their rear. Some enemy cavalry tried to get at them from the east however and my one remaining un-blown regiment countercharged. This was teh first cavalry vs cavalry mele I've seen in SoW and it was handled quite realistically, the actual fight being quite short and the winners (my boys) chasing the enemy for a couple of hundred yards before I was able to rein them in.
The enemy regrouped however and returned and in a second melee my first regiment was routed but my second intervened and finally drive the Yankee boys away to the north east, saving the two wagons. After that, while we had several cvalry units on these hills, three Union infantry regiments came north out of Union Mills and I think at this point the Rebs would have taken their booty and withdrawn.
It was a very confusing and hard-fought battle, not helped by the fact that I couldn't find the right command button to get my cavalry to capture the weak targets (wagons)!
It is also interesting to read Stefan's report - clearly my side of the battle was the quieter side, most of the action went on to the east and I knew nothing of it, thinking we had lost at the end!
Run, Yankees, run! One of the cavalry vs cavalry fights at the end. My boys have just dismounted to send the northerners a parting gift.
Federal reserve columns coming out of Union Mills to see us off while their high command gallops hither and thither like so many chickens with a fox nearby and one wagon escapes across country (naughty, naughty!)

Mr. Digby




Posts

: 1410


Join date

: 2012-02-14


Age

: 54


Location

: UK Midlands



Moving from our camp around the Blacks Shop and moving to the west per commanding General F.C. Armstrong's orders to move to the area north of Myersville and patrol the road from the Hollis farm area. Movement to the area north of Myersville was un-opposed, and then moving north a short distance found a large column with at least 4 or more yank wagons moving east past the Hollis farm.

Ordered to screen from any yank advance to he south, Heberts Brigade formed up and watched the yank column continue its movement to the east. Observing the yank rear guard beginning its movement to the east, Heberts brigade decided to move to the next ridge to the east, and while moving there saw to yank wagons in the valley, orders were given to charge the wagons as they were un-supported at the moment, unable to catch the wagons before there supports came up we continued to the next ridge. Holding here was orered by Gen Armstrong to the support of Col. Slemons to the S.W. and arriving there found both the yanks and Col. Slemons unit disengaging each other the battle being
fought out there.

Moving back to a position just north of Myersville, found that a column of the enemy was moving south toward Myersville, the yank units had left 3 wagons alone on the road, and these wagons were captured by the 1st Texas Legion, but unable to guide the nags pulling the wagons from the road it was
decided to take what we could and withdraw to the ridge, as a large force of yanks was coming to the wagons aide.

We held this position until the end of the fight. Loses to Heberts Brigade can only be discribed as
lite, being to my best guess as 2 killed, and 12 wounded.

I would like to thank all involved in this battle, as this was the best hour and one half I had all week, and was very realistic in my eyes.

CoB4thTEXAS




Posts

: 19


Join date

: 2011-12-15


Age

: 60


Location

: TEXAS



Blaugrana wrote:I hadn't thought through what to do with them once captured. Perhaps I should have had a plan in place for that and maybe a command detailed to guard them. Having said that, we were not really set up to defend wagons - as Martin said last night, we would probably have had to make do with burning the wagons and denying them to the enemy. Perhaps that could be a tweak for future re-runs? Not the burning - that just has to go on the wish list, but maybe Rebs could choose either to try and keep and defend wagons or, for less 'points', destroy them. They could announce the burning via the on-screen message, with the proviso that they couldn't do it just as the wagon is about to be captured. Tricky to umpire, I know ...

The idea for the Confederate side was to capture the supplies, so yes the wagons should be moved away from the federals. I guess, once captured they are under the command of Armstrong, but I'm not sure.
I agree that the next best thing for the Confederates would be to destroy the supplies and denying them to the Union. This can't be modeled by the game and announcing in chat is not ideal either.
What I did was to calculate the recaptured wagons as being impaired and counted them only half for the Union score.
Blaugrana wrote:
Could your trilogy be run as a campaign, Stefan, with troop losses carried over? That would (yet another) level of excellence.

Well, this would be nice, but I don't see any way of implementing this. The scenarios are meant to be replayed a couple of times, and the roles of players may change each time. And if the result of a game would be extreme, like the confederates are annihilated in trying to attack the Union supply route in scenario1, what would be the point in playing scenario2?

What could be done easier though is to implement minor changes to the scenarios like the units starting locations or mission-relevant locations.

Leffe7




Posts

: 382


Join date

: 2012-03-01



I thought our Confederate chums might be interested in the Union objectives and plan. We had two infantry brigades, each escorting a wagon train, plus a cavalry brigade. The wagon trains were each to move to one of two farms, at which food had been collected, pick this up and move on to the granary at Union Mills. The two farms were widely separated however, and there was insufficient time to visit them in succession, so the division was ordered to operate in two independent columns. That was a concern, but there seemed no way round it.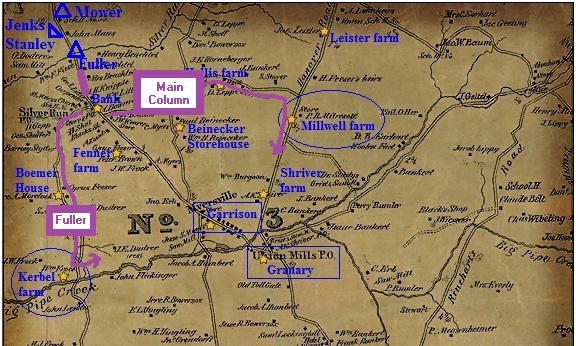 I sent the weakest infantry brigade to the westernmost farm (Kerbel), hoping that they might not be spotted, and could sneak through to Union Mills. The main column consisting of the other two brigades were to move to the eastern farm (Millwell), show themselves and draw onto them any enemy forces. I hoped they would have the strength to fight their way through if necessary. Our cavalry brigade included an artillery battery. This consisted of replacements, and was not really combat-worthy, but we were hoping it could get a few shots off and frighten the rebels at least. I intended to travel with the main column.
Things appeared to go well at the outset. Colonel Fuller's weak infantry brigade marched west and then south towards Kerbel Farm, and as far as we could tell had not been spotted. The main column moved east towards Millwell Farm, and were soon in contact with enemy militia, but our cavalry drove them off in fine style. This enabled Colonel Mower's infantry and wagon train to push on as far as the Hanover Road. By this time regular Confederate cavalry had appeared, but Captain Jenks' cavalry presented a brave front, and the enemy did not attempt to close. Mower's wagons meanwhile pushed on to reach Millwell Farm without incident, and loaded the foodstuffs.
Although communication with the detached Fuller was understandably infrequent, things appeared to be going well at this point. There were a few causes for concern however. Time was moving on, and Mower's wagons were authentically slow, which forced him to halt his infantry periodically for them to catch-up. Even then, the wagons were difficult to control, some seeming to have a mind of their own. Jenks was experiencing even worse problems with his artillery, which in spite of repeated orders to close-up did not appear at all. A gap had by now opened between him and Mower. Eventually we both decided that the guns would have to fend for themselves, and Jenks brought his Illinois cavalry up. They arrived in the nick of time, as rebel cavalry had just swept onto Mower's wagons and captured most of them. Our own cavalry were able to retake the train - although in real life I suspect most would have been burnt by the rascally insurgents.
It was initially unclear who had control of the recaptured wagons, and there was further delay while we worked-out it was Jenks, rather than Mower. The latter pushed-on towards Union Mills with some of the wagons, while Jenks struggled to shepherd the others there as well. Another gap had opened between them at this point however. I did not help matters by ordering Mower to go on from Union Mills to Fuller's relief, as I had received a message from him that he had been attacked by enemy cavalry E of Kerbel Farm, and was in trouble.
At this point, the rebel cavalry attacked again and once more captured several of the wagons – this time from Jenks! A quick order to Mower turned him around, and he was able to recapture the lost wagons for a second time. The Confederates evidently found as much difficulty as we did controlling them. We finally got them all to Union Mills, where we were surprised to find we had more than we started with! I was also pleased that Colonel Fuller was able to join us there with his remaining troops. Our artillery never did show up (we suspect broken roads on the map).
The senior officers joined me for an excellent dinner that evening, but I fear the rank-and-file will be on short rations for a while.
After this sort of debacle it is traditional for top brass to search for junior scapegoats. All my immediate subordinates are all quite blameless of course, so please step forward Mower's wagon train commander and Jenks' artillery battery commander, who are to face courts-martial for drunkenness and cowardice respectively.
A full bottle of Tennessee sippin' whiskey has since led me to a bout of introspection however, and I have to admit to at least a couple of mistakes of my own. I erred in waiting too long before ordering Jenks' cavalry up in support of Mower S of Millwell Farm, and then in failing to enforce tighter march discipline on the final stage into Union Mills.
A great game, played by all in an excellent spirit, and many thanks again to Stefan for running it.
Martin

Martin




Posts

: 1433


Join date

: 2008-12-20


Location

: UK (SE)



Stefan, you should combine these AARs with the basic plan for each side and post them on NSDs forum.

Mr. Digby




Posts

: 1410


Join date

: 2012-02-14


Age

: 54


Location

: UK Midlands



Mr. Digby wrote:Stefan, you should combine these AARs with the basic plan for each side and post them on NSDs forum.
Yes, this is a good idea. But I don't have much time to do this properly in the next days, since I'm preparing this weeks game and also the third part of the series

.
Maybe someone else is interested and could arrange this? I could assist if needed.

Leffe7




Posts

: 382


Join date

: 2012-03-01



Brig. Gen. D.S. Stanley

Union Mills, Md

April 30th, 1862

SIR: I have the honor to submit the following official report of the operations of this brigade during the recent operations on April 28th. The command was located just north of Silver Run in the middle of the supply column. After fighting our way to the head, I ordered the brigade and artillery east to the Hollis farm. The artillery was not seen again until the end of the day. Lt. Sears claims his compass was malfunctioning and was unable to tell directions. Also, since it was just after noon, the sun's position was of no benefit.

Not far out of the village, we came upon a small force of militia. This force was quickly dispatched by the 1st Illinois. Only one casualty resulted from this skirmish, with the militia being completely destroyed. At this time, two regiments of rebel cavalry appeared. I formed my brigade on an opposing hill to block any attempt on their part to interfere with the wagon column.

The wagons and infantry past this point without incident. Although numbers favored an attack on the rebel force, I decided that given the substantial distance the column still had to travel, I would not risk large casualties and blown horses. Instead I was going to screen the rear of the column from these marauders. As the wagon column was turning onto the Harper Ferry Rd., two wagons took the wrong road and headed straight towards the enemy cavalry.

I urgently sent a message to Col. Mower stating the situation and hurried my command over to the errant wagons. By this time, the rebels had captured the wagons and were
reveling in their ill gotten booty. As my force approached, the enemy rode off quickly, after more of the wagons, which by this time had no infantry support. I recaptured all the wagons, some of them twice, and took charge of them and sent them to the granary.

At this time, I received your message stating that Col. Fuller's column was under attack and to proceed to his aid. I was unable to comply with this order as I had several enemy cavalry regiments in the area attempting to confiscate our wagons and the infantry was nowhere in sight. I was finally able to proceed to the general vicinity of Col. Fuller with the 3rd Illinois. He and is men were gone, but the wagons were there, guarded by two enemy cavalry regiments. At this point, my men and horses were exceedingly tired. Regardless, I decided to try to force the rebels away, hoping that a charge would throw fear into those troops and force them to withdraw. However, the enemy was spoiling for a fight and would not yield. The 3rd Illinois was compelled to abandon the field with one killed and 12 wounded.

Shortly after this time, I saw the lost artillery in the far distance making their way cross country towards Union Mills. I recommend that Lt. Sears be broken down into the ranks for gross incompetence. I find his explanation of a malfunctioning compass without merit. His battery would have been of invaluable use against that enemy force we first encountered.

I have since learned that the wagon commander was found drunk in a bordello in town while his command was left directionless. I am preferring charges against him for dereliction of duty.

Very respectfully, your obedient servant,

Lt. Col. Albert Jenks



Uncle Billy




Posts

: 866


Join date

: 2012-02-27


Location

: western Colorado



An excellent report, Lt Col Jenk's.

Your recommended charges against Lt Sears and the wagon master are hereby endorsed.

I should point out that I breveted the erstwhile Captain Jenks Lt Colonel in the field, in recognition of his initiative during the recent engagement.

Brig. Gen. D.S. Stanley

[a few more posts like this and we'll have the beginnings of a victory!]

Martin




Posts

: 1433


Join date

: 2008-12-20


Location

: UK (SE)



Ah, yes, time to throw the blame around! You Yankees are good at doing that, at least.
Is it just my eyesight, or did I read that name as Lt Col Jerks?

Massaging the casualty returns now, hm? Is that so the good colonel can continue drawing the dead mean's pay? This artistic rendition by Armstrong's official war artist clearly shows that "1 dead and 12 wounded" is a gross under-estimate!

Mr. Digby




Posts

: 1410


Join date

: 2012-02-14


Age

: 54


Location

: UK Midlands



Is it just my eyesight, or did I read that name as Lt Col Jerks?
I am sure Gen. Rosecrans will have a proper response later this week.


Uncle Billy




Posts

: 866


Join date

: 2012-02-27


Location

: western Colorado



Page 4 of 4 •

1, 2, 3, 4
---
Permissions in this forum:
You
cannot
reply to topics in this forum